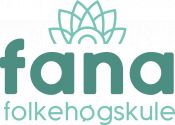 Course length: All year

Study tour for the course:

Turnélivet venter

Study tour for the school:

Bli-kjent-tur til Voss, Blåtur på Vestlandet
Foundation: Liberal

The liberal folk high schools are built on values that are not based on one particular belief. They encourage students with different interests and beliefs to apply.

Food: Vegetarian, vegan

Most schools will accommodate food allergies and other dietary needs. If you have questions, please contact the school directly.

Environmental certification: DebioFairtrade
Location: Bergen
Linjefag: 13 hours/week
Price: from 124 700,-
At our school, you have the opportunity to live as a musician for a year. You get to play in a band, meet like-minded people, and go on tour. You'll get everything you need to develop as a musician.
The music program at Fana is packed with activities: you have instrument lessons, play in a band, learn about sound and PA systems, perform concerts, and go on tour.
In addition, you attend many great concerts in Bergen.
Playing in bands
The music program spends a lot of time playing in bands. The musicians are involved in choosing songs, which means that we play music in many different genres.
In addition to playing in bands, we regularly hold workshops and meetings with professional musicians who talk about life as a musician.
We mostly play pop, rock, jazz, and similar genres. The repertoire of cover songs gradually transitions into original compositions. Throughout the year, we record and end up with a full album by the end of the school year.
Concerts are an important part of the program. We start small with some house concerts at school before venturing out to Bergen's live music venues.
Listening to music
To become a good musician, you need to listen to a lot of different music.
In the music program, you will gain insight into what really happens in music. What are the musicians doing? Why does the song work so well when this particular band plays it? How are the songs structured? These are questions that we discuss when evaluating songs.
Individual focus
At the music program, musicians of different levels come together. Therefore, it is important to figure out what you need to progress.
You receive instrument lessons from professional musicians in Bergen.