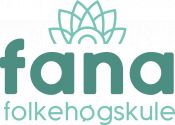 Course length: All year

Study tour for the course:

Kunstreise til Roma

Study tour for the school:

Bli-kjent-tur til Voss, Blåtur på Vestlandet
Foundation: Liberal

The liberal folk high schools are built on values that are not based on one particular belief. They encourage students with different interests and beliefs to apply.

Food: Vegetarian, vegan

Most schools will accommodate food allergies and other dietary needs. If you have questions, please contact the school directly.

Environmental certification: DebioFairtrade
Learn to use techniques, explore themes, and experiment with materials. Visit exhibitions, see artworks, and hear what visual artists think. Explore your own ideas and images. Develop your creativity.
The teaching is structured in periods where you focus on different techniques, themes, and expressions. The assignments or projects usually have a clearly defined framework.
You solve assignments and use your own ideas. The teachers give you feedback along the way.
Good working conditions
All students have their own workspace in the art room. There, you can have your own equipment and projects throughout the year.
Through the school fees, you have paid for the material costs of the teaching projects, and you can freely use the equipment available at the school.
Of course, you have access to the workspace in the art room around the clock.
Academic program
You do not need any prior knowledge to attend Visual Arts. We have a program that provides teaching at your own level, whether you are a beginner or have worked extensively with different expressions.
Throughout the year, you work on your own artworks and receive individual feedback on your work.
Art classes
Teaching by both art and photography teachers
Guest teachers, both experienced artists and newly graduated ones
Art history
Get familiar with both new and old artists and learn more about their work and ideas
Exhibitions
Visits to museums and galleries
Your own exhibitions at the school
Your own exhibitions in Bergen city center