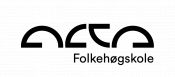 Course length: All year

Study tour for the course:

Finnmarksløpet, Finnmarksvidda rundt

Study tour for the school:

Opplev Øst-Finnmark, Elgjakt
Foundation: Christian

The Christian folk high schools are built on Christian values. They are owned by, or associated with, Christian organizations or denominations. They encourage students with different interests and beliefs to apply.

Food: Vegetarian

Most schools will accommodate food allergies and other dietary needs. If you have questions, please contact the school directly.

Environmental certification: Fairtrade
Location: Alta
Start-up date: 19.08.2023
Price: from 136 000,-
Glide over the tundra. From puppy to sled dog. 60 huskies and pups at our service. Your own team on each winter excursion. This is the course for folks who really want to be dog people!
Dog sledding is about strong huskies, training pups, and mushing on the Finnmark tundra. It's for those who dream of huskies and an exciting outdoor experience. Alta has the biggest concentration of mushers/huskies in Norway. There is over a thousand huskies , mushers, and support in and around Alta in March during the Finnmarkløpet, Europe's longest dog sled race. Our school helps during the event. Throughout the winter, you'll be responsible for your own team training for the long tour through the breathtaking nature of North Troms and Finnmark.
Be a dog person
Strong huskies
Your own dog
Train with a 16 dog team
60 huskies for our use, anytime
Daily kennel chores
Operating a big kennel
Meet real wolves
Solo treks with your huskie
Sleep under the stars
Feel the warmth of a good fire
Paddle rapids on the Alta river
Sleep out in a hut
Fish mountain trout
Learn orientering
First aid
Horseback riding on the tundra
Sledding over water and land
Glide over the Finnmark tundra
Alta-Musher's Mekka
Dog mentality
Cross frozen rivers and lakes with your team
Multiple day ski excursions
Greenland style mushing
Master arctic cold, the science of seasonal clothing
Mountaineering with a sled team
Night mushing
Sleep out under the northern lights
Long excursion with 120 huskies
Responsible for your own team/equipment
Experience first hand Finnmarkløpet
All together we'll have about 50 nights out and 150 day excursions.