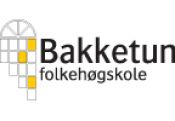 Course length: All year

Study tour for the course:

Tur i Norge - Norwegian Adventurers

Study tour for the school:

Felles studietur til Spania og Gibraltar, Turer i nærområdet
Foundation: Christian

The Christian folk high schools are built on Christian values. They are owned by, or associated with, Christian organizations or denominations. They encourage students with different interests and beliefs to apply.
Location: Verdal
Start-up date: 24.08.2024
Linjefag: 17 hours/week
Price: from 123 350,-
Welcome to our international class: Norwegian adventures! Suits both international and norwegian students, aiming to improve knowledge about your own and others language, culture and history.
You will find Bakketun in Verdal, located in the middle of Norway, surrounded with a big variety in both natural and cultural landscapes. For more than 100 years Bakketun has hosted students from different backgrounds and cultures. Our aim is to create an engaging, safe and inclusive environment where there is space for everyone.
A year at Bakketun will give you the opportunity to focus on your interests and subjects by your own choice, and to grow academically, but also on a personal and social level.
During the course lessons we will explore areas from mountains to fjords throughout all the seasons, discover both our norwegian and indigenous cultural heritage and dive into today's society with a broader perspective. Together we learn with a practical and engaging approach.
A day at school can include to go hiking, visit local organizations, make food at the bone fire, practice basic skills with map and compass, go dog sledging in the winter, visit protected wild life areas, arranging a beach clean up, learn about edible plants, explore local culture through handcraft or food tradtions, create educational escape rooms or spend the night under the stars or in a cozy mountain cabin. You and your co-students have the possibility to form the school year based on your interests.
At Bakketun we also have common subjects and elective subjects. Maybe you would like to combine your main subjects with ceramics, skateboarding or guitar playing? There are many opportunities!
Welcome!