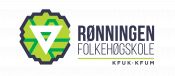 Foundation: Christian

The Christian folk high schools are built on Christian values. They are owned by, or associated with, Christian organizations or denominations. They encourage students with different interests and beliefs to apply.

Food: Vegetarian, vegan

Most schools will accommodate food allergies and other dietary needs. If you have questions, please contact the school directly.

Environmental certification: FairtradeGrønt flagg
Study Norwegian language and culture in a genuine environment and make friends from all over the world. Norwegian classes are combined with specialisation in one of the school´s other fields.
A year in Rønningen includes:
300 hours Norwegian course with at qualified teacher.
Practicing your Norwegian while attending classes in art, music, dance, photography, sports or social science with Norwegian peers.
Educational trip to Vestlandet and Bergen.
Studying and living together with youth from all over Norway and all parts of the world is a perfect environment in which to deepen your knowledge about Norwegian language, Norwegian culture, intercultural understanding – and yourself.
As our school is the only folkehøgskole situated in Oslo you have a unique chance to explore the capital city of Norway and all the opportunities this city can offer.
Welcome to a year at Rønningen folkehøgskole - most of our alumnis refer to it as "The best year of my life"!

Please read more here before you send your application